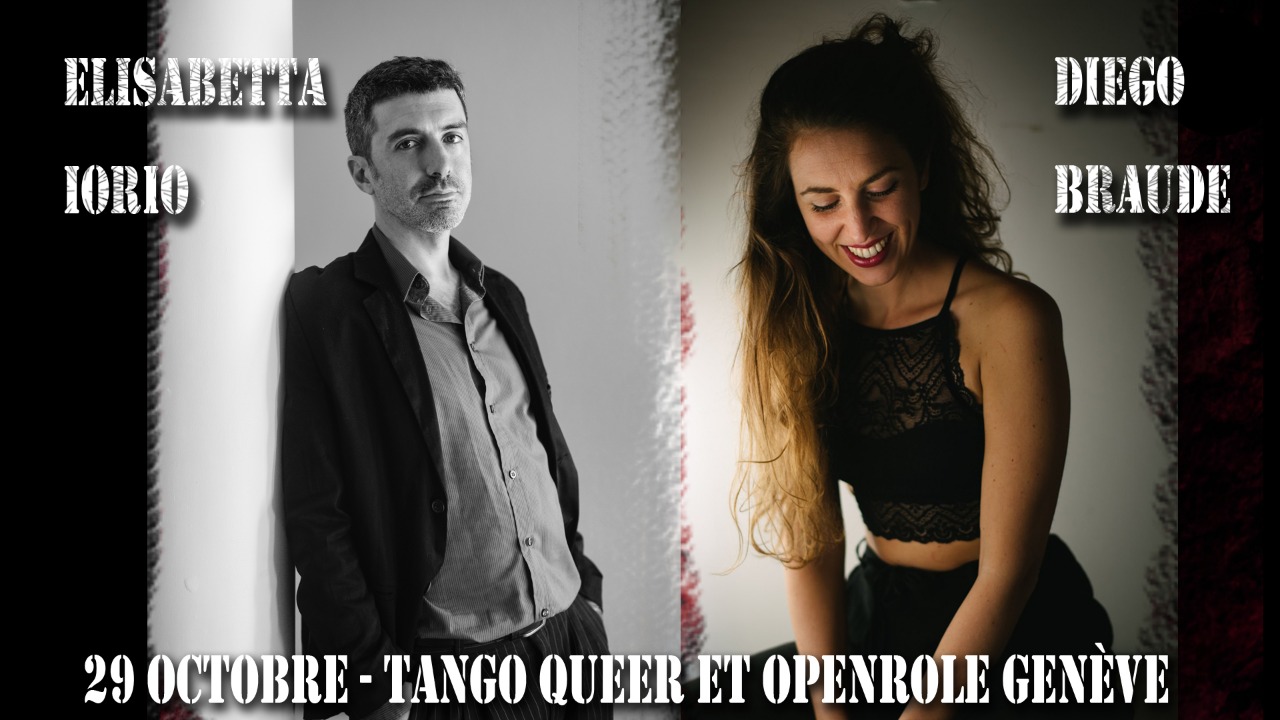 Heure
19:30 - 20:45
Tarif
Sur donation/prix libre, montant approprié souhaité
Type d'événement
10. Maestros Internationaux
Elisabetta Iorio et Diego Braude chez Tango Queer Genève
Nous sommes très fiers d'accueillir pendant une semaine Diego Braude (BsAs) et Elisabetta Iorio (Brescia, IT).
Leur premier cours de la semaine sera chez nous mardi 29 octobre, ensuite un cours à la Milonga Brava jeudi 31 octobre (avec demo à la milonga: facebook.com/events/390169105033463), et trois stages au Fleuve Lausanne/Renens le week-end de 2-3 novembre (https://milongas.ch/events/week-end-de-stages-elisabetta-ioro-et-diego-braude-au-fleuve).
Pour mardi 29 octobre chez Tango Queer Genève, Diego et Eli proposent un cours sur le thème "Le flow, la connexion et la dynamique: faire de la musique ensemble".
Vidéo d'Eli et Diego, donnant une demo à la milonga Maria Rolero en BsAs (leurs biographies à la fin de ce texte):
https://youtu.be/OtE4n0xJXik?t=67
Le cours commence à 19h30 ponctuelles (arrivez à 19h15 s.v.p.) et finira à 20h45.
Comme toujours, la participation est à prix libre, mais comme pour tous les cours avec des maestros invités, on encourage un don bien adapté à l'occasion (15 chf suggeré).
Après le cours, à partir de 20h45 Practilonga, tous les niveaux (jusqu'à 22h30 ou selon envie).
Pour info, le cours pour les débutants de 18h30 à 19h30 est maintenu comme d'hab et donné par Hernan et Matthias.
Sur les profs invités:
Diego was a journalist, photographer and documentary filmmaker before becoming a dancer, DJ and organizer in BsAs. His mentors have been Bruno Tombari & Rocío Lequio, Pablo Rodríguez & Corina Herrera, Cecilia García & Serkan Gokcesu, and Gastón Torelli. He has performed and DJ'd at some of the trendiest milongas of Buenos Aires (El Batacazo, Muy Lunes, La Maria Rolera, El Motivo, Milonga Solidaria or Gallo Rojo, …) and has been teaching, DJing and performing in Europe mainly in Greece, Italy and Switzerland. This current 2019 tour he started with Eva Laura Madar in Israel, continuing to Crete with Sofia Galanaki (dancer and organizer of A los amigos Tango Festival), and now exclusively in Suisse Romande with Elisabetta. Diego's approach to tango is dance as a dialogue and the result of a neverending process of personal search where mistakes are not something to avoid but part of the path
Elisabetta is from Brescia, Italy, to where she recently returned after 4 years living in Argentina. In Buenos Aires she tought with different dancers and worked as assistant at Dana Frigoli's DNI school. Having studied the violin for many years, she began complementing her passion for Tango as a dance with a profound interest for Tango music. Surrounded by the best experts (Horacio Godoy, Ignacio Varchausky, and more), Elisabetta set out into a deep study of history, evolution, and stylistic choices of the orquestras and analogies and differences between them. Since returning to Italy, Elisabetta has DJ'd locally and at European festivals and marathons, slowly becoming one of the most sought after new DJs in her country.
Together, Diego and Elisabetta have danced both in Buenos Aires as well as in Italy. Both try to stay a little bit crazy, because that's the fun part.