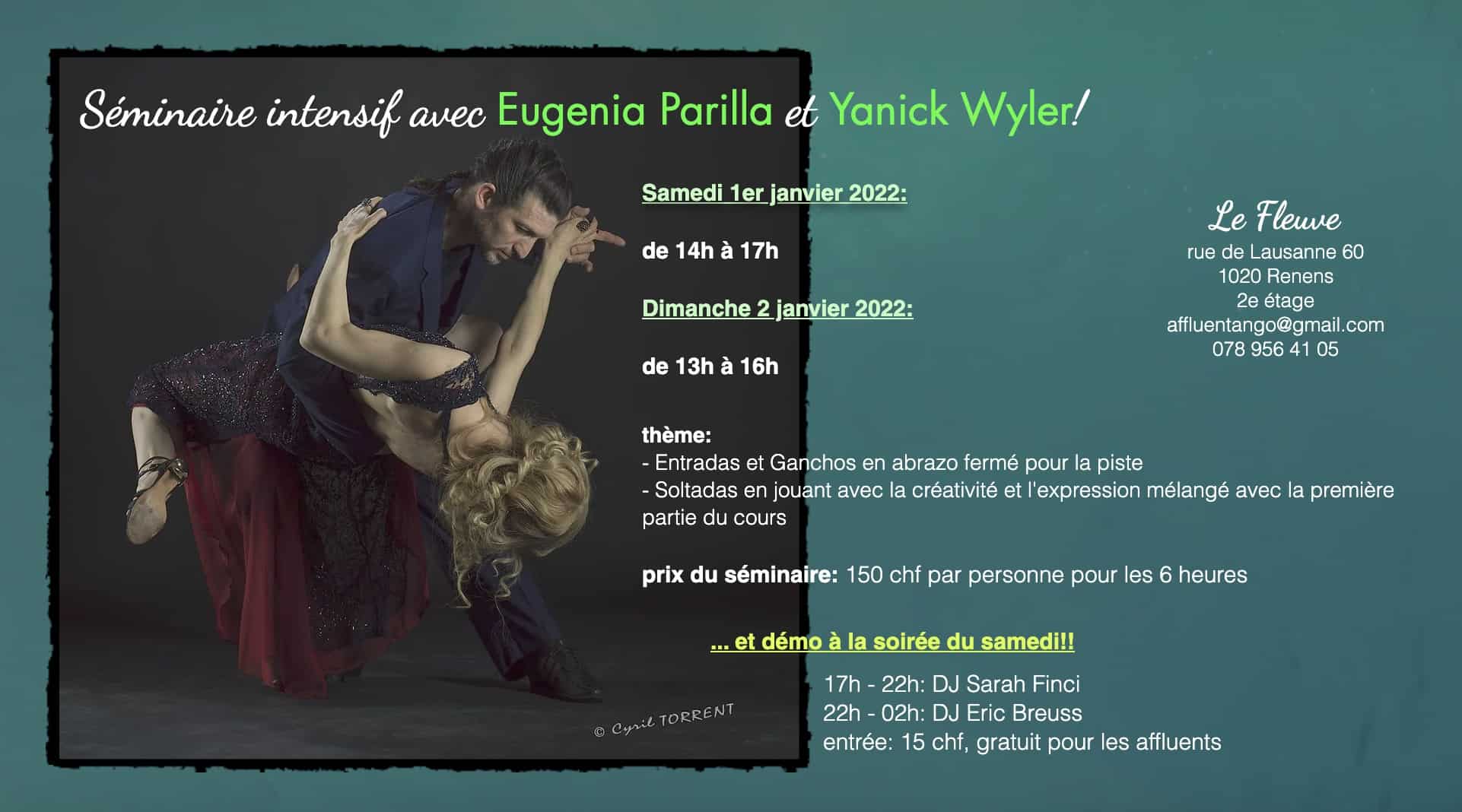 Date
1 - 2 janvier
Expired!
Heure
Voir horaire
Type d'événement
10. Maestros Internationaux
1-2 janvier
Eugenia Parilla & Yanick Wyler
Séminaire intensif avec Eugenia Parilla et Yanick Wyler 🙂
… pour commencer l'année en honorant ses bonnes résolutions: «en 2022, je travaille sur mon tango…» 😉
Vivement recommandé!! La réputation de ces deux danseurs incroyables et excellents maestros n'est plus à faire!
Samedi 1er janvier de 14h à 17h
Dimanche 2 janvier de 13h à 16h
Thème:
– Entradas et Ganchos en abrazo fermé pour la piste
– Soltadas en jouant avec la créativité et l'expression, mélangé avec la première partie du cours
​
Prix du séminaire: 150 chf par personne pour les 6 heures
… et à ne surtout pas rater: show des maestros à la soirée du samedi!
(17h – 22h: DJ Sarah Finci
22h – 02h: DJ Juan
entrée 15 chf, gratuit pour les affluents)
Petit mot des maestros:
PHILOSOPHY
To bring awareness to the internal alignment of our posture. To achieve balance, stability and functionality in all movements by working with the oppositions inside our body's structure. To dance autonomously, to express ourselves independently and to consciously connect with our dance partner. Only by finding freedom in our movement, can we enter into a healthy dialogue that is tango dancing.
CENTRAL TOPICS
How to generate impulses without force and being able to free the joints. Learning to connect with physical sensations in order to find comfort in all moments of the movement. Use of the legs, dissociation and projection. Timing and direction of the change of weight as an efficient technique for leading. Connection with the physical space and how to comfortably adapt the embrace to any given circumstance. All doubts and questions will be welcomed in class so that you can work on your individual challenges as well.
OUR OBJECTIVE
To impart knowledge and tools to help you develop creativity and quality in your dance, thus achieving a pleasant and fun dancing experience.