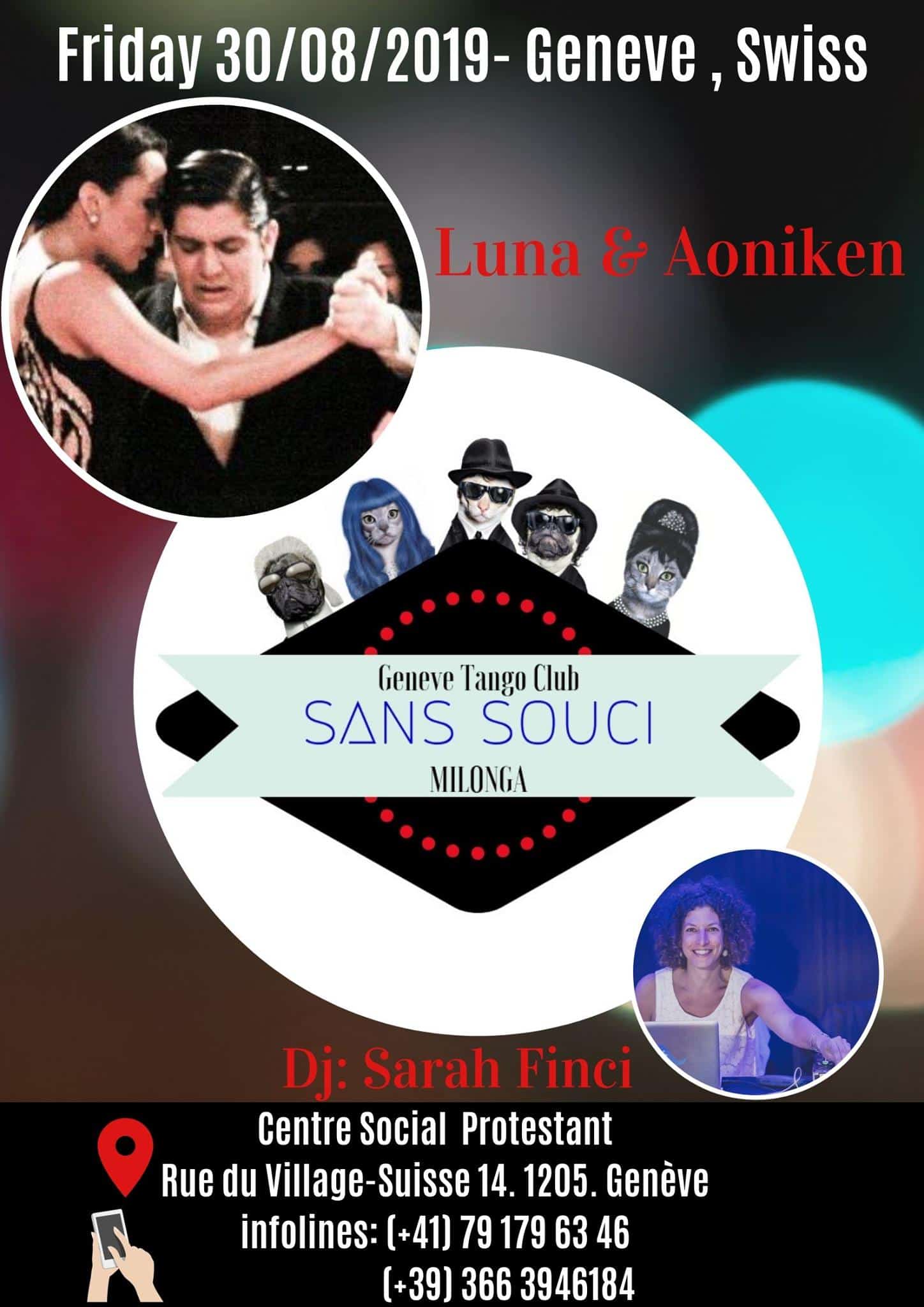 Heure
20:30 - 00:00
Tarif
20 CHF
Type d'événement
01. Milonga extraordinaire
Milonga Sans Souci, démo Luna & Aoniken
Special Event!
Luna Invites: Aoniken Quiroga!
Close to end of summer season, Geneva Tango Club by Luna Palacios, is proud to announce this special event! They are going to be teaching and performing togheter from Friday 30th to Monday 2nd. You can't miss this rare chance to study with this experienced and professional couple!
Program:
Times & Locations
Friday Aug 30, 20:30
Milonga Sans Souci
Address: Centre Social Protestant, au fond de la rue Gourgas, entrée sur le côté!!!
Rue du Village-Suisse 14. 1205 Geneva, Switzerland
Time: 20:30
Dj: Sarah Finci
Performance: Luna Palacios & Aoniken Quiroga
Lessons – Geneve Tango Club.
Address: 26 Rue de la Terrassière, 1207 Geneva, Switzerland
Saturday
15:00 – 16:15: MEN TECNIQUE
16:30 – 17:45: WOMEN TECNIQUE
18:00 – 19:15: TANGO. COUPLES TECNIQUE
Sunday
15:00 – 16:15: MEN TECNIQUE
16:30 – 17:45: WOMEN TECNIQUE
18:00 – 19:15: MILONGA. COUPLES TECNIQUE
Infolines:
(+41) 79 179 6346
(+39) 366 394 6184